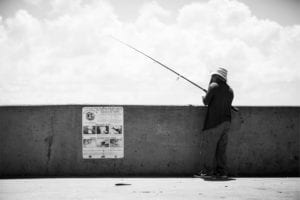 NEW rules which could lead to the "demise" of fishing on the River Torridge have been delayed after an intervention from fishermen backed by Torridge District Council.
The Fishing Conservation Association put forward plans this month to ban drift netting in the Torridge Estuary.
According to the association the ban is necessary to regularise and balance recreational fishing and commercial fishing.
It particularly wants to protect salmon and sea bass caught primarily with drift nets.
Local fishermen believe fish stocks are in good health and if the ban goes ahead they warn it could spell the end of fishing on the river.
Many local fishermen rely on drift netting and the essential income generated in the winter months when severe weather may prevent them from setting out to sea and attempting to cross the treacherous Bideford Bar.
On Thursday, June 16, fishermen and councillors spoke to the association and as a result it chose to extend what was a four week consultation on the issue to eight weeks.
Councillor Philip Hackett said: "I very much welcome the committee's decision to extend the formal consultation period for the imposition of this unwarranted and unnecessary bylaw.
"I strongly urge all sections of the community, not only the fishermen, to make their views felt as the bylaw will have detrimental social and economic implications within the Torridge area beyond the estuary itself."
The fishermen also point out that the practice is a right of passage for young fisherman entering the industry who move on to drift netting from rod and line before they might consider investing in their own trawler costing in excess of £200K.
About Redden Custom Netting
In 1958, John Redden started Redden Net Co. Ltd to supply commercial fishing gear to the fishing communities of the Pacific Northwest. Now, more than fifty years later, we have an in-house net loft staffed by professional, experienced net builders – and our executive team has more than 100 combined years of experience in every facet of industrial netting. So no matter what industry you're in, if you need a net, we can build it.
Over the last fifty years, our technology, applications, and materials have become more complex, but our business philosophy remains simple. Treat employees and customers – right.  We do. And we'll do it for you.
Contact:
Phone: 1.800.667.9455 (Toll Free)
Email: [email protected]
Web: http://redden-net.com