Golf Netting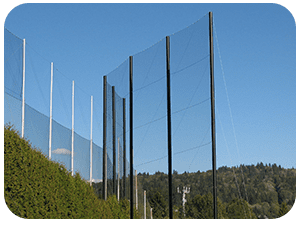 When you need deflection and protective nets to save your neighbours and patrons from errant golf balls, Redden Net Custom Nets can help.  For the past 25 years, we've supplied the golf community with:
Range and Barrier Nets
Practice Cage Nets
Safety Nets
Deflection Nets
Building-protection Nets
All of our nets are UV-protected, which means they've got a much longer outdoor life-span. You can choose golf netting made from twisted knotless polyethylene, braided knotless polyethylene, knotted nylon, or knotless nylon.
If you need golf nets, we've got it. Redden Net Custom Nets has been serving the golf industry for a quarter-century and we've used those years to innovate. We've worked diligently to design and produce stronger, longer-lasting range and barrier nets that don't increase the wind-loads on range structures.
Please call us at 604.530.2213 (Toll Free 1.800.667.9455) to discuss your project or request a quotation. You can also email [email protected] or complete our online form.

Contact Us
Redden Net Custom Nets Ltd.
5620 – 198th Street
Langley, BC V3A 7C7
Tel: 604.530.2213
Toll Free: 1.800.667.9455
Fax: 604.530.2218
Email: [email protected]