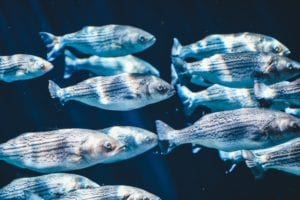 Commercial fishermen are fighting plans to ban drift netting for sea bass, and say the experts are wrong to claim that stocks are in decline.
IFCA, the Inshore Fishing Conservation Authority, says a ban in the Torridge estuary in North Devon is needed to balance recreational and commercial practices, conserve sea bass stocks which it believes are in dramatic decline, and to protect the accidental catching of salmon in drift nets.
But local commercial fishermen, with the support of Torridge councillor Philip Hackett, believe fish stocks are in good health.
They say that if a ban goes ahead it will lead to a further decline of the Torridge fishing industry that has already seen the last trawler being sold and moved out of Bideford.
However, sea anglers are backing the IFCA ban and blame monofilament drift nets for a fall in sea bass stocks.
After representations at the IFCA meeting last week a consultation on the proposed ban has been extended from four to eight weeks.
Mat Mander from the Devon and Severn IFCA, said: "The fact that fishermen see sea bass in the estuary doesn't mean the species is doing well everywhere.
"You would expect to see them in the estuary because that's where they aggregate.
"It happens with a lot of species. Fishermen go where the stocks are and believe that all is well with the world. But it isn't necessarily so."
In a statement, Torridge District Council said: "Many local fishermen rely on drift netting and the essential income generated in the winter months when severe weather may prevent them from setting out to sea and attempting to cross the treacherous Bideford Bar.
"The fishermen also point out that the practice is a rite of passage for young fisherman entering the industry who move on to drift netting from rod and line before they might consider investing in their own trawler costing more than £200,000.
"With no trawlers left in Bideford this traditional and sustainable manner of fishing is the only direct form of fishing supporting those left in the industry.
"A ban will most likely result in the dramatic and immediate termination of fishing as a way of life in the area."
Cllr Philip Hackett said: "I very much welcome the committee's decision to extend the formal consultation period for the imposition of this unwarranted and unnecessary by-law.
"I strongly urge all sections of the community, not only the fishermen, to make their views felt as the by-law will have detrimental social and economic implications within the Torridge area beyond the estuary itself."
Malcolm Gilbert, from the Cornish Federation of Sea Anglers, said: "The IFCA ban is long overdue. Anglers all over the country are increasingly concerned about the proliferation of of monofilament gill nets.
"They only arrived on the scene in the mid-70s and are not a traditional method of fishing. We believe they are a major player in the demise of fish stocks over the past 40 years."
Mr Gilbert, who also works for the Bass Anglers Sportfishing Society, said Cornwall was considering a similar ban. Mr Gilbert organised a well-attended march to the office of Camborne and Redruth MP George Eustice in April this year to protest against fishing regulations, which they said were failing to conserve stocks.
About Redden Custom Netting
In 1958, John Redden started Redden Net Co. Ltd to supply commercial fishing gear to the fishing communities of the Pacific Northwest. Now, more than fifty years later, we have an in-house net loft staffed by professional, experienced net builders – and our executive team has more than 100 combined years of experience in every facet of industrial netting. So no matter what industry you're in, if you need a net, we can build it.
Over the last fifty years, our technology, applications, and materials have become more complex, but our business philosophy remains simple. Treat employees and customers – right.  We do. And we'll do it for you.
Contact:
Phone: 1.800.667.9455 (Toll Free)
Email: [email protected]
Web: http://redden-net.com