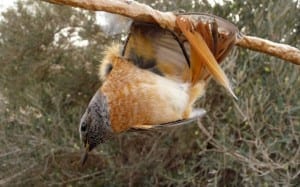 Illegal trapping of birds using bird netting has been alarmingly high this winter, according to the NGO Committee Against Bird Slaughter (CABS).
The CABS activists identified 222 nets and 451 limesticks in just three weeks, the NGO announced on Monday.
According to the environmental organisation, the amount of trapping during the winter months was alarmingly high, even compared with autumn, the main trapping season on the island.
"The situation is out of control, electronic sound mimicking devices are everywhere on the island. It is obvious that the government has no real strategic plan or at worst is unwilling to stop illegal bird trapping in winter," head of CABS, Alexander Heyd said.
"Consumers in Cyprus believe that bird consumption is something traditional and innocent, and do not realise that it not only causes huge damage to European birds, but also hurt their own country: bird trapping is an illegal business that involves organised criminal groups," said Heyd. "Their consumption fuels crime."
About Redden Custom Netting
In 1958, John Redden started Redden Net Co. Ltd to supply commercial fishing gear to the fishing communities of the Pacific Northwest. Now, more than fifty years later, we have an in-house net loft staffed by professional, experienced net builders – and our executive team has more than 100 combined years of experience in every facet of industrial netting. So no matter what industry you're in, if you need a net, we can build it.
Over the last fifty years, our technology, applications, and materials have become more complex, but our business philosophy remains simple. Treat employees and customers – right.  We do. And we'll do it for you.
Contact:
Phone: 1.800.667.9455 (Toll Free)
Email: [email protected]
Web: http://redden-net.com