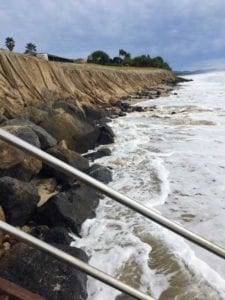 Belongil's Interim Beach Access Stabilisation (IBAS) rock wall works are being examined by Byron Shire Council officers this morning but critics of the $1 million spent on the project say the money might as well have been thrown out to sea.
Byron Cr Paul Spooner took a tour of the beach himself this morning and saw sand covering the rocks completely washed away, netting hanging in tatters over rocks, some of which seem to have become dislodged.
'I was certainly expecting to see a more uniform rock formation,' Cr Spooner told Echonetdaily.
'Time will tell what becomes of the beach but as of this morning it had completely disappeared,' he added.
The writer saw a similar sight yesterday when he walked the beach, although the tide was not as high.
Much of the sand that covered the rocks was washed and blown away in the storm and the plastic net that covered the rocks is now in tatters in many places.
Loose pieces of plastic netting that were seen strewn on the beach yesterday have since washed away on the high tide.
Environment writer Mary Gardner warned this has created a danger to birds and other creatures that may eat it when it enters the water.
Several readers have reported seeing rocks from the wall washed onto the beach and into the water, potentially creating a safety hazard for swimmers and surfers.
Cate Coorey of Byron Residents' Group says 'the rock walls that council only recently put in at Belongil Beach have failed their first big storm.'
'Cr Sol Ibrahim and the other pro-rock councillors pushed the rock wall through as an essential infrastructure project, arguing that the sand bags that are in front of some Belongil houses – and which are legal – were ugly and posed a threat to marine life,' she said.
'The wall, which was rejected by the community and pushed through without community consent, was lauded as a great improvement.
'It is now an eyesore, with the rocks that had been landscaped and covered now exposed and dangerous.
'Surfers or bathers could be seriously injured if they were to hit one of the rocks that have washed down into the water.
'Erosion is intensified in front of rocks and there is always a loss of sand.
'We have an ugly mess on our beach that is the result of vested interests being placed ahead of community interests and environmental considerations,' Ms Coorey said.
She added that this was a litmus test ahead of the much more substantial rock wall that council plans to build as part of its Coastal Zone Management Plan (CZMP) that is currently on exhibition.
'Council is planning even more rock walls or our beaches in the CZMP. Again the community was ignored in the drafting of this plan.
'It proposes a 1.06 km rock wall on Belongil beach, that will certainly cause the erosion of the Belongil Estuary.
'This CZMP does not even consider the environmental impacts of the proposed rock wall and future hard structures.
'The impact on Belongil estuary will be devastating.
'The estuary is essential for marine ecosystem functioning and as a roosting, nesting and feeding area for a multitude of threatened and migratory seabirds, shorebirds and waterbirds.
'A rock wall will cause erosion and loss of sand to the north.
'It will inevitably lead to legal action from those affected – it is obvious Elements resort will lose beachfront.
'The IBAS has proven to be a detriment to our beaches that residents have had to pay for.
'Why should residents pay what will be hundreds of millions of dollars into a never ending project to build a wall to protect a few houses – and lose our beach into the bargain? ,' Ms Coorey queried.
She urged Byron Shire residents to 'make a submission to council to reject rock walls on Byron's beaches.'
About Redden Custom Netting
In 1958, John Redden started Redden Net Co. Ltd to supply commercial fishing gear to the fishing communities of the Pacific Northwest. Now, more than fifty years later, we have an in-house net loft staffed by professional, experienced net builders – and our executive team has more than 100 combined years of experience in every facet of industrial netting. So no matter what industry you're in, if you need a net, we can build it.
Over the last fifty years, our technology, applications, and materials have become more complex, but our business philosophy remains simple. Treat employees and customers – right.  We do. And we'll do it for you.
Contact:
Phone: 1.800.667.9455 (Toll Free)
Email: [email protected]
Web: http://redden-net.com