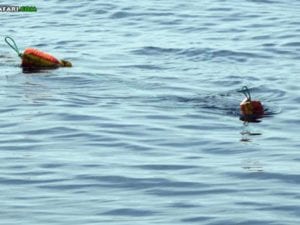 ORANGE COUNTY, CA — A team of federal experts was on the way to Dana Point today to help free a whale tangled up in fish netting.
The blue whale was spotted this morning, and National Oceanic and Atmospheric Administration officials believe it was the same whale who was sighted yesterday about 30 miles off the shores of San Diego, said the NOAA's Michael Milstein.
"It's trailing the same type of gear," that was seen hobbling the whale in the San Diego area Sunday, Milstein said.
"We have a disentanglement team heading out to the whale at this time," Milstein said.
It is rare for blue whales to get tangled up in fish netting because they do not usually forage for food so close to shore, Milstein said.
A blue whale got tangled up in fish netting last fall, and this would be the second one in two years, he said.
A fisherman called authorities about the whale near San Diego, but since it was some 30 miles offshore, it was deemed too far away for a rescue, Milstein said.
The blue whale was spotted just about three miles off Dana Point's shoreline, which was close enough to attempt a rescue, Milstein said.
Captain Dave's Dolphin and Whale Safari stated in a release that the whale is tangled in a crab trap line, estimating that there are approximately 200 feet of line wrapped around the blue whale's tail.
Team members from the Pacific Marine Mammal Center and Captain Dave's are also assisting in the rescue.
"Private boats should not approach the animal and/or make an attempt to remove any of the line," the release said. "It is estimated that nearly 308,000 dolphins and whales die from entanglement in fishing gear every year worldwide," the group stated.
About Redden Custom Netting
In 1958, John Redden started Redden Net Co. Ltd to supply commercial fishing gear to the fishing communities of the Pacific Northwest. Now, more than fifty years later, we have an in-house net loft staffed by professional, experienced net builders – and our executive team has more than 100 combined years of experience in every facet of industrial netting. So no matter what industry you're in, if you need a net, we can build it.
Over the last fifty years, our technology, applications, and materials have become more complex, but our business philosophy remains simple. Treat employees and customers – right.  We do. And we'll do it for you.
Contact:
Phone: 1.800.667.9455 (Toll Free)
Email: [email protected]
Web: http://redden-net.com