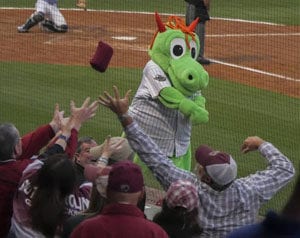 The Charlotte Knights have no immediate plans to install additional safety netting to BB&T Ballpark after a young fan was seriously injured last weekend by a foul ball hit into the stands.
"I don't think we are right now," said Knights general manager Scotty Brown. "We're always evaluating and monitoring how our operation works. We're relieved to have what we have, but there's no way to completely protect every part of the ballpark and we continue to urge our fans to be alert at all times."
James David, a kindergartner from Charlotte, was sitting in the front row on the third baseline – an area not protected by a net – when the ball struck him in the head. James, 6, suffered a concussion and skull fracture and had bleeding on his brain, his family told WBTV.
The Knights installed additional netting in the stadium before the season began, raising the height of the net that runs to the end of each dugout from 4 feet to 35 feet. Brown said the additional netting cost the team $75,000.
Major League Baseball recently recommended that teams add netting, or some kind of protective barrier, in front of all field-level seats between the near ends of both dugouts to shield fans from balls and bats that can go into the stands.
Brown said the Knights got complaints from some fans when the team raised the nets.
"They said they didn't want to be behind the net, they wanted a clear view," Brown said. "But we felt like the safety factor should prevail."
Brown said Knights players Erik Johnson, Jacob Turner and Scott Carroll and Homer the Dragon visited James, whose condition has improved, on Wednesday.
"The Knights are happy James is doing better," said Brown. "We hope he can come back to the ballpark when he's fully recovered."
About Redden Custom Netting
In 1958, John Redden started Redden Net Co. Ltd to supply commercial fishing gear to the fishing communities of the Pacific Northwest. Now, more than fifty years later, we have an in-house net loft staffed by professional, experienced net builders – and our executive team has more than 100 combined years of experience in every facet of industrial netting. So no matter what industry you're in, if you need a net, we can build it.
Over the last fifty years, our technology, applications, and materials have become more complex, but our business philosophy remains simple. Treat employees and customers – right.  We do. And we'll do it for you.
Contact:
Phone: 1.800.667.9455 (Toll Free)
Email: [email protected]
Web: http://redden-net.com