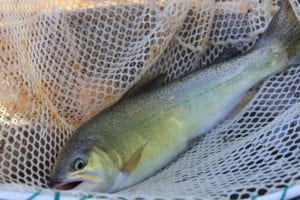 We are in the middle of an annual phenomenon known as the spring "hill" tides. The full and new moons of May and June features these exceptionally strong tides which leads to the flushing of blue crabs, pass (mackerel) crabs and large brown shrimp from the major estuaries of Tampa Bay, Sarasota Bay and Charlotte Harbor. The flush serves to propel these critters on their way to the open Gulf for the spawn.
At the same time, some of Florida's premiere gamefish show up in force near the passes to take advantage of the bounty. The big three would be tarpon, permit and cobia that all relish gorging on the abundant crustaceans.
I can recall many nights in the spring heading from the house on the upper Myakka River over to Englewood to set up camp on the old wooden bridge to ManaSota Key. As a youngster, a prized possession of mine was an old Coleman gas lantern equipped with an extra large shade which would cast a wide circle of light at the edge of the bridge pilings. Attached to a long rope, the lantern would be lowered to just above the water surface and with a strong ebbing tide, the crabs and shrimp would soon be floating by.
A long-handled fine-meshed dip net was utilized to scoop up coolers full of the delectable blue claw crabs and sweet brown shrimp. The pass crabs were too small for eating but made excellent bait for redfish, cobia, permit and tarpon.
Many of us would tie down a sturdy boat rod spooled with heavy monofilament line to the bridge railing and suspend a lively shrimp, finger mullet or pinfish at the outer arc of the lantern light to entice big snook lurking in the shadows.
With the price of seafood today, a sleepless night on the old bridge was an unbelievable bargain for quality, fresh seafood even back then.
The practice of dip-netting crabs and shrimp is still some what productive today. Prime spots are the Skyway piers and places where old low bridges near Gulf passes were preserved for anglers to fish safely away from high speed traffic.
■ Bradenton's Discount Tackle reports sea trout to be the dependable inshore catch. Pompano in Longboat Pass and tarpon dominating beach action. Permit showing on wrecks at 10 miles or more Gulfside. Look for American red snapper at 100-140 foot depths.
■ Skyway South Pier anglers finding Spanish mackerel bites better in late afternoons. Snapper chewing best under the lights at night along with tarpon and shark. Lots of cobia on the scene. Flounder and sea trout round out the action at the long span. Large bay shrimp have joined the crab flush this week pleasing dip-netters.
■ Clients on Adventure Charters out of CB's seeing good action in Big Pass with mangrove snapper, grouper, Key West grunt, ladyfish and shark. Nearby flats producing sea trout and bluefish. Tarpon bites rated tough at times with live crabs being the prime bait lately.
■ Kayak guide Steve Gibson reports snook, redfish, flounder and gray snapper on mangrove edges in Buttonwood Harbor. Helicopter Shoal giving up sea trout to 3 pounds.
■ Charterboat Best Catch reports 60-pound plus amberjack before the closure. Look for red snapper on structure in 130-150 foot. Gags on ledges at 50 foot with red grouper a bit deeper. Cobia, bonito and some late season kings offshore as well. The South County I.C.W. good for redfish and mangrove snapper.
■ Fine Bait & Tackle in North Port reports good cobia numbers from the El Jobean Bridge to 41 bridge taking bottom-fished white bait. Straggler kings still offshore and blackfin tuna within 10 miles of the beaches.Tarpon action strong in the region while freshwater anglers catching largemouth on wild shiners and chrome/blue Rattletraps.
About Redden Custom Netting
In 1958, John Redden started Redden Net Co. Ltd to supply commercial fishing gear to the fishing communities of the Pacific Northwest. Now, more than fifty years later, we have an in-house net loft staffed by professional, experienced net builders – and our executive team has more than 100 combined years of experience in every facet of industrial netting. So no matter what industry you're in, if you need a net, we can build it.
Over the last fifty years, our technology, applications, and materials have become more complex, but our business philosophy remains simple. Treat employees and customers – right. We do. And we'll do it for you.
Contact:
Phone: 1.800.667.9455 (Toll Free)
Email: [email protected]
Web: http://redden-net.com