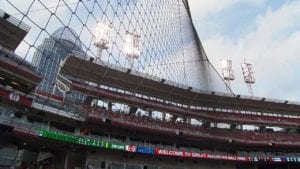 OKLAHOMA CITY – Safety Netting in Baseball
In accordance with recommendations made by Major League Baseball, and in order to provide a friendlier fan environment, the Oklahoma City Dodgers will extend the safety netting behind home plate to cover most seats behind each dugout at Chickasaw Bricktown Ballpark.
"Fan safety is a top priority to our organization," said OKC Dodgers President/General Manager Michael Byrnes. "Although there are always inherent risks while attending a baseball game, we want to limit those risks. This issue has been discussed for a long time within professional baseball, and we are happy to comply with these recommendations."
After completing an in-depth study, Major League Baseball announced enhanced recommendations for fan safety on Dec. 9, 2015 during the Baseball Winter Meetings. In order to better protect fans from balls and bats that sometimes fly into the stands, MLB recommended that all ballparks lengthen safety netting to cover all seating areas within 70 feet of home plate, with Minor League Baseball endorsing the recommendations. Although these safety enhancements are not required within Major League Baseball or Minor League Baseball, most teams have elected to act in accordance.
"Minor League Baseball is very appreciative of the time and effort that went into the research done by Major League Baseball in an effort to balance fan safety and the overall fan experience," said Minor League Baseball President and CEO Pat O'Conner. "Minor League Baseball clubs strive to offer safe, family-friendly facilities for our fans and these recommendations will help ensure the safety of those fans sitting close to the action."
The extended netting at Chickasaw Bricktown Ballpark will cover an approximate 100-foot radius from home plate. The netting will be extended about two-thirds of the way down each dugout toward the outfield, beginning at Section 106 on the third base side and going through Section 114 on the first base side. The height of the new netting will match the netting that is currently in place behind home plate, which is approximately 37 feet tall. (Diagrams are attached.)
The new netting will be anchored down the left field line. The middle cables behind home plate that anchor the current netting will be removed. The netting at the ballpark was last replaced in 2008.
"We take a lot of pride in maintaining our top-notch facility to be best of our ability," Byrnes said. "The configuration of the new netting is not only what we felt was best for our fans, but the best to be tailored to the schematics of the ballpark as well."
The OKC Dodgers open play Thursday, April 7 in Nashville, and the home opener is Friday, April 15 against the Nashville Sounds at 7:05 p.m.
About Redden Custom Netting
In 1958, John Redden started Redden Net Co. Ltd to supply commercial fishing gear to the fishing communities of the Pacific Northwest. Now, more than fifty years later, we have an in-house net loft staffed by professional, experienced net builders – and our executive team has more than 100 combined years of experience in every facet of industrial netting. So no matter what industry you're in, if you need a net, we can build it.
Over the last fifty years, our technology, applications, and materials have become more complex, but our business philosophy remains simple. Treat employees and customers – right.  We do. And we'll do it for you.
Contact:
Phone: 1.800.667.9455 (Toll Free)
Email: [email protected]
Web: http://redden-net.com