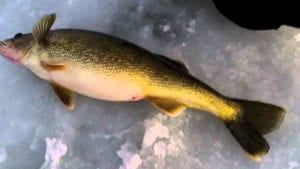 The Anishinabek/Ontario Fisheries Resource Centre (A/OFRC), in partnership with Nipissing First Nation, will be conducting an "End of Spring Trap Netting" project to assess the spawning walleye population at Iron Island.
Iron Island is in Lake Nipissing by Sandy Island near the French River
This project will be taking place in May 2016 when water temperatures reach 4°C.
The End of Spring Trap Netting protocol will consist of setting two six-foot trap nets overnight for a 24 hour period. All walleye will be tagged, measured for fork length and total length, and weighed. The sex and spawning condition will be determined for each individual walleye, and the dorsal and/or scale samples will be removed to determine age. All fish will be live released after sampling.
The results from this project will be compared to the Wasi Falls spawning walleye assessments, and will be used to update the information from past Iron Island spawning walleye assessments.
This study is intended to complement data that has been collected in the past, and to determine if walleye biological characteristics have changed over the years, especially the abundance of mature females.
"Fall Walleye Index Netting (FWIN) projects have taken place since 1998. The data collected from the FWIN projects have been valuable, however, the FWIN does not focus on spawning walleye populations. The Ontario Ministry of Natural Resources and Forestry (OMNRF) has assessed the Wasi Falls spawning population annually, and it has been determined that the Wasi Falls population is separate from the spawning walleye at Iron Island. The A/OFRC conducted end of spring trap netting at Iron Island in 1994, 1995, 1997, 1998 and 2002," says a news release from the group.
The A/OFRC is a not-for-profit organization that serves as an independent source of information for communities within the Anishinabek Nation.  The Centre provides information and recommendations for sustainable fisheries management, reports of stock status, evaluates stresses on fish populations and habitats, and offers technical support.
About Redden Custom Netting
In 1958, John Redden started Redden Net Co. Ltd to supply commercial fishing gear to the fishing communities of the Pacific Northwest. Now, more than fifty years later, we have an in-house net loft staffed by professional, experienced net builders – and our executive team has more than 100 combined years of experience in every facet of industrial netting. So no matter what industry you're in, if you need a net, we can build it.
Over the last fifty years, our technology, applications, and materials have become more complex, but our business philosophy remains simple. Treat employees and customers – right.  We do. And we'll do it for you.
Contact:
Phone: 1.800.667.9455 (Toll Free)
Email: [email protected]
Web: http://redden-net.com