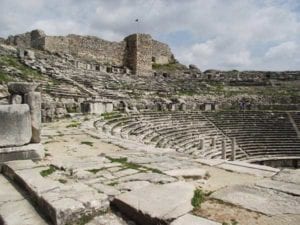 After several weeks backpacking in Turkey we found ourselves on the southern Aegean in the magnificent coastal community known as Patara. It is an area full of history; at one time the largest seaport of ancient civilization, visited by St Luke and St Paul, and also a major centre in Roman times.
Damaged by severe earthquakes in AD 141 and AD 240, its harbour silted up. The remains of the amphitheatre, a spectacular arch and an acropolis affording magnificent hilltop views of the 18 km local beach are still to be seen today. There was little English spoken in this region. And barely another traveller given that the spectacular beach was a 3 km walk, through protected land, from the village.
Our accommodations were spartan; a family run pansiyon named Likya, hand-built in the youth of the now 80-year old mayor. A proud man who wore ties and crisp pressed shirts in crushing heat. Likya appealed to us because of the friendly owners, Abraham and Emmal, and the vine-shaded restaurant patio. We speculated that the mayor was Abraham's father.
In this beautiful, bucolic place we would swim, explore ruins, and visit the village. At dusk we would share a beer on the patio searching for a breeze while the old man would visit us with a plate of grapes. No words were spoken, but we would try to communicate with all our might that mosquito netting was required as we would be tormented nightly by masses of them and enter the day bleeding and exhausted.
One evening he appeared unexpectedly with a package. We could tell he was very pleased with himself – it was bed netting and he smiled broadly as we welcomed him into our room.
Mike and I were both fresh from the showers. None of us appeared shy and my lover gestured to assist with the installation of the netting. As he stepped forward his towel fell from his hips to the floor. At first, silence and then as the mayor lowered his eyes at Mike and then raising his eyes to mine he said "normal".
About Redden Custom Netting
In 1958, John Redden started Redden Net Co. Ltd to supply commercial fishing gear to the fishing communities of the Pacific Northwest. Now, more than fifty years later, we have an in-house net loft staffed by professional, experienced net builders – and our executive team has more than 100 combined years of experience in every facet of industrial netting. So no matter what industry you're in, if you need a net, we can build it.
Over the last fifty years, our technology, applications, and materials have become more complex, but our business philosophy remains simple. Treat employees and customers – right.  We do. And we'll do it for you.
Contact:
Phone: 1.800.667.9455 (Toll Free)
Email: [email protected]
Web: http://redden-net.com