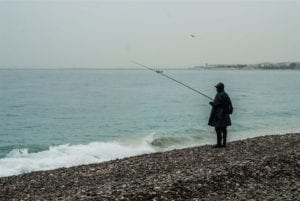 Scores of registered fishermen protested on Tuesday outside the office of the Deputy Commissioner Bandipora against what they said illegal netting rampant in Wular Lake.
The protestors alleged that Fisheries department officers in Bandipora were allowing illegal netting while taking commission from few chosen people who were not even registered as fishermen in the department.
They said that Illegal netting in Wular lake was posing a serious threat to fish resources in this breeding season.
"Ilegal netting by some outsiders who are hand in glove with fisheries officials is posing threat to livelihood of thousands of registered fishermen in the area," alleged Abdul Karim Dar.
He also said that due to illegal netting also destroys fish seed in the current breeding season.
The protestors said that they had raised this issue before Deputy Commissioner and fisheries officials but nothing concrete happened on ground.
The protestors raised slogans against the Deputy Commissioner and fisheries officials alleging they were hand in glove with these illegal encroachers.
About Redden Custom Netting
In 1958, John Redden started Redden Net Co. Ltd to supply commercial fishing gear to the fishing communities of the Pacific Northwest. Now, more than fifty years later, we have an in-house net loft staffed by professional, experienced net builders – and our executive team has more than 100 combined years of experience in every facet of industrial netting. So no matter what industry you're in, if you need a net, we can build it.
Over the last fifty years, our technology, applications, and materials have become more complex, but our business philosophy remains simple. Treat employees and customers – right.  We do. And we'll do it for you.
Contact:
Phone: 1.800.667.9455 (Toll Free)
Email: [email protected]
Web: http://redden-net.com