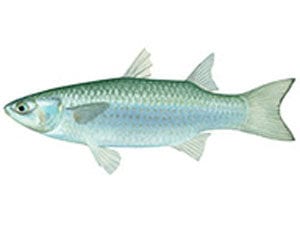 Getting netting rules right. If you enjoy fishing and use fish netting in Australia, you might want to read the rules put out by the local government:
Small fish species used for bait can be caught with a throw net in the Pilbara/Kimberley, but you require a recreational net fishing licence.
Some fishers who holiday in the north at this time of year use local species, such as bony bream and greenback mullet, as bait when fishing for barramundi, mangrove jack or fingermark, so it's important to know how many of these fish you can legally take for bait.
Bony bream (family Clupeidae) is classified as a baitfish, for which the daily bag limit is nine litres of all baitfish species combined. In contrast, greenback mullet (family Mugilidae) is in a finfish category that has an individual species/total mixed species bag limit of 30 per day.
The only form of recreational netting permitted past Cape Preston is throw netting – recreational haul and set netting are prohibited in most waters of the Pilbara/Kimberley.
About Redden Custom Netting
In 1958, John Redden started Redden Net Co. Ltd to supply commercial fishing gear to the fishing communities of the Pacific Northwest. Now, more than fifty years later, we have an in-house net loft staffed by professional, experienced net builders – and our executive team has more than 100 combined years of experience in every facet of industrial netting. So no matter what industry you're in, if you need a net, we can build it.
Over the last fifty years, our technology, applications, and materials have become more complex, but our business philosophy remains simple. Treat employees and customers – right.  We do. And we'll do it for you.
Contact:
Phone: 1.800.667.9455 (Toll Free)
Email: [email protected]
Web: http://redden-net.com