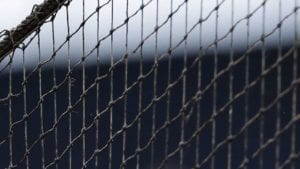 Fans at Buffalo Bisons games this season will be able to enjoy their baseball with a more secure feeling, thanks to protective netting.
The Bisons introduced some new ballpark and concession features at their annual "What's New at Coca-Cola Field" media event Wednesday at the downtown ballpark. Among them was more protective netting extending from the present backstop to the end of each dugout to increase spectator safety from batted or thrown balls.
Fans should feel more secure as they munch away at some additions to the ballpark food lineup. The team will introduce a Buffalocal Concession Stand at Section 100 on the main concourse featuring Buffalo food favorites. A new stand at section 105 will feature wines, hard cider and root beer.
The team will debut a new 30-person party suite available for rent on the club level. It will be Buffalo themed.
New additions to the usual extensive lineup of promotional events will be a Seinfeld Night, featuring an appearance by the "Soup Nazi," Larry Thomas, on Aug. 13 as well as an appearance by the XPOGO Stunt Team on Aug. 12 and a Family Carnival Day on Aug. 14.
There will be two bobblehead giveaways in honor of former Bisons and current Toronto Blue Jays pitchers Marcus Stroman (May 21) and Aaron Sanchez (Aug. 10). The complete Bisons promotional lineup is available on the team's website, Bisons.com.
All Tuesdays will be Ted's 2-for-1 Tuesdays, where fans can purchase two regular-priced tickets for the price of one with any Ted's Hot Dog receipt. Each Tuesday will also feature a 2-for-1 concessions item.
After a seven-game road trip, the Bisons will play their International League home opener against Rochester on April 14 at 2:05 p.m.
About Redden Custom Netting
In 1958, John Redden started Redden Net Co. Ltd to supply commercial fishing gear to the fishing communities of the Pacific Northwest. Now, more than fifty years later, we have an in-house net loft staffed by professional, experienced net builders – and our executive team has more than 100 combined years of experience in every facet of industrial netting. So no matter what industry you're in, if you need a net, we can build it.
Over the last fifty years, our technology, applications, and materials have become more complex, but our business philosophy remains simple. Treat employees and customers – right.  We do. And we'll do it for you.
Contact:
Phone: 1.800.667.9455 (Toll Free)
Email: [email protected]
Web: http://redden-net.com