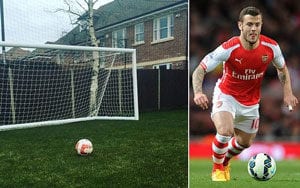 Jack Wilshere has strongly denied claims that he spat at his elderly neighbour and threatened him, two months after the Arsenal footballer won a planning battle over 18ft-high nets in his back garden.
The allegations are the latest in a number of off-the-pitch controversies involving the 24-year-old, who is already being investigated over a fracas outside a London nightclub last month.
Alun Cathcart, 71, had reportedly complained to the England midfielder about the netting that had been raised in his garden to stop balls flying over the fence.
The businessman, who is the former chairman of Avis Europe, claimed he had just parked next to his house in Hertfordshire when Wilshere drove past, wound down the window and spat in his direction.
"It wasn't spittle but proper thing, front and the back of the nose and throat," Mr Cathcart told the Sun. "The car was playing very heavy music – as he was getting out of the car rap music was being played at full belt."
Mr Cathcart, who called police to report a public order offence, said Wilshere turned up later and waited for him at the edge of the property.
"He just said to me, 'a word please'," Mr Cathcart said. "He said, 'What about these lies, what is this all about?'
"Then he can't help himself, his temper gets the better of him. His parting shot was, 'You do not want to mess with me'."
Mr Carthcart claims a man claiming to be Wilshere's "personal security agent" then arrived. "He was quite intimidating, shouting," he said.
The businessman, who said he plans to press charges, called police again, claiming he feared for his safety, the newspaper reported.
About Redden Custom Netting
In 1958, John Redden started Redden Net Co. Ltd to supply commercial fishing gear to the fishing communities of the Pacific Northwest. Now, more than fifty years later, we have an in-house net loft staffed by professional, experienced net builders – and our executive team has more than 100 combined years of experience in every facet of industrial netting. So no matter what industry you're in, if you need a net, we can build it.
Over the last fifty years, our technology, applications, and materials have become more complex, but our business philosophy remains simple. Treat employees and customers – right.  We do. And we'll do it for you.
Contact:
Phone: 1.800.667.9455 (Toll Free)
Email: [email protected]
Web: http://redden-net.com