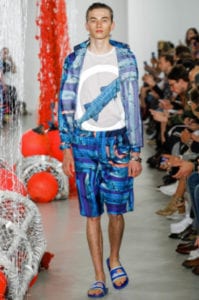 Fishing Nets
Splitting the catwalk in two was a wall of red and white netting, evocative of trawlers' fishing nets that drag through the ocean trawling for catch. Weighed down by buoys to mark for reefs and other hazards (perhaps the barracudas?), the netting made it obvious from the start that Katie Eary was taking us diving. The netting was a contrast against the high-quality silk and cashmere and linear graphics that Eary presented throughout the collection, and got us totally immersed in Eary's watery world.
Under The Sea
Katie Eary is never one to shy away from a bold look. For this collection, a principal motif was clear from the beginning as she cast her net wide for influences. With many of her looks embracing a sea colour palette, Eary worked with deeps blues, corals, teals and predatory fish prints to create a collection that had just emerged from underwater. Looks consisted of a zip-up jacket in melded stripes of blue with printed white stars, a blue fur-trim coat with teal, red and purple geometric shapes and stripy fluffy jumpers. The womenswear looks consisted of a blue barracuda and coral slip dress, a criss-cross white swimsuit and a white glow-in-the-dark bikini ready for a night-time beach party.
Evil Barracuda
For SS17 Katie Eary took inspiration from one of our favourite characters from Danny Boyle's seminal film Trainspotting, Begbie. Looking at Irvine Welsh's The Blade Artist, where Begbie has been reformed and rechristened as artist Jim Francis, Eary looked towards the dark and complex muse for her inspiration. The "evil barracuda" prints covering many of the looks references his personality and the rebellious spirit he embraces, and was a perfect fit for the sea theme. The mystery of the depths was a main theme for the collection, with the colours of the barracuda prints matching the blue Ellesse sliders that would easily take the models from the catwalk to the seaside. 
About Redden Custom Netting
In 1958, John Redden started Redden Net Co. Ltd to supply commercial fishing gear to the fishing communities of the Pacific Northwest. Now, more than fifty years later, we have an in-house net loft staffed by professional, experienced net builders – and our executive team has more than 100 combined years of experience in every facet of industrial netting. So no matter what industry you're in, if you need a net, we can build it.
Over the last fifty years, our technology, applications, and materials have become more complex, but our business philosophy remains simple. Treat employees and customers – right.  We do. And we'll do it for you.
Contact:
Phone: 1.800.667.9455 (Toll Free)
Email: [email protected]
Web: http://redden-net.com