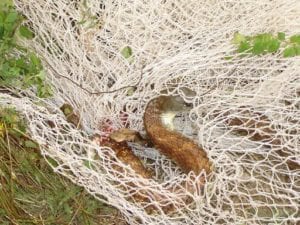 Early this year I noticed something on the snowball bush my husband planted in the back yard several years ago. There was a web on it, similar to those that invade pecan trees. I was afraid it had stunted the growth of the bush. At one point, I thought maybe the bush was dying. Then one morning several weeks ago, I noticed some buds. In a few days, the bush exploded with big white balls of petals. It was almost as full as last year. I was so thrilled.
After admiring it, I wandered close to the storage house to look at a little fig tree. It has been there a long time, but it seems to stand still. Soon after we planted it, I bought plastic netting to wrap around it to keep birds from stealing the figs. I guess I was optimistic, because it never has produced more than three or four figs a year. We placed the netting over the top and sides of the tree. Instead of cutting off the remainder, we balled it up at the base of the tree and tied a string around it.
Some of the netting was still there. Was it stunting the growth of the tree? I decided to remove it. As I did so, a vivid memory came back—the snake. We had no idea that a 3 ¼ ft. rat snake was visiting the tree. Was it looking for figs? Maybe it found the tree a good place to watch for a bird to snare—if snakes snare birds.
My husband had a back yard garden that year. We usually went out to check the garden after supper. Sometimes we brought in squash, eggplants and tomatoes. I always made a check of the fig tree while he "harvested." I have no idea how many times I took a quick look at the tree before I noticed something strange. One harvesting time, I noticed something entangled in that bunch of netting wadded up at the base of the tree. There was an odor, too. Flies buzzed around it. Whatever it was, it was entangled about a foot or two around the lower part of the tree.
As I stood staring, I suddenly comprehended that the "something strange" was a snake. A dead snake, of course. I believe I know what had happened. The more the poor reptile had wiggled trying to free itself, the more entangled it got. No telling how long it had struggled.
Like most people, I am afraid of snakes. I felt sorry for that trapped critter when I thought about what it went through, struggling to save itself to no avail. What an unpleasant task it was for my husband and me to release and remove the snake. I used scissors to snip the netting. We took turns pulling it out of the netting.
A lesson learned: When checking the fig tree and admiring my snowball bush, watch for snakes.
About Redden Custom Netting
In 1958, John Redden started Redden Net Co. Ltd to supply commercial fishing gear to the fishing communities of the Pacific Northwest. Now, more than fifty years later, we have an in-house net loft staffed by professional, experienced net builders – and our executive team has more than 100 combined years of experience in every facet of industrial netting. So no matter what industry you're in, if you need a net, we can build it.
Over the last fifty years, our technology, applications, and materials have become more complex, but our business philosophy remains simple. Treat employees and customers – right.  We do. And we'll do it for you.
Contact:
Phone: 1.800.667.9455 (Toll Free)
Email: [email protected]
Web: http://redden-net.com