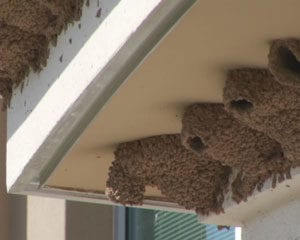 There's nothing fancy about what's been going on at the Valencia County Courthouse the past few years during the spring season: birds nesting and leaving quite a bird mess.
So far this year, crews in Valencia County appear to found a solution.
Don't blame the birds. Nesting season is instinctual, and what better place than outside a courthouse, right? Mud swallows are protected animals in New Mexico. Once they begin to build nests, they cannot be disturbed without a special permit.
Last year, Valencia County officials spent $18,000 on pest control experts to prevent the birds from taking up residence at the courthouse, but the bird mess won out.
A viewer contacted KOB on Monday to say crews appeared to be winning the battle with the birds this year. When a KOB photographer arrived, they found angry birds swarming the place, but no nests.
There was a simple solution, but it's hard to see from far away. Looking closer, crews put up netting everywhere so the birds can't build nests. That's why they seem so angry, just buzzing around everywhere.
About Redden Custom Netting
In 1958, John Redden started Redden Net Co. Ltd to supply commercial fishing gear to the fishing communities of the Pacific Northwest. Now, more than fifty years later, we have an in-house net loft staffed by professional, experienced net builders – and our executive team has more than 100 combined years of experience in every facet of industrial netting. So no matter what industry you're in, if you need a net, we can build it.
Over the last fifty years, our technology, applications, and materials have become more complex, but our business philosophy remains simple. Treat employees and customers – right.  We do. And we'll do it for you.
Contact:
Phone: 1.800.667.9455 (Toll Free)
Email: [email protected]
Web: http://redden-net.com