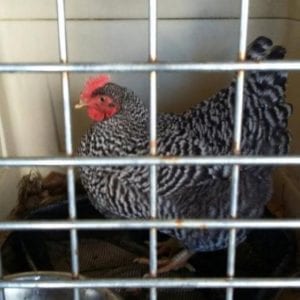 AUGUSTA — After recovering one stray chicken Wednesday afternoon from Bond Brook Road, the city's animal control officer is returning to the same area after hearing that a second fowl is on the lam.
Francois Roodman, who was en route to the area Thursday afternoon, said he first went there Wednesday after hearing from a resident that a gray chicken with red features around its head was crossing between two houses on Bond Brook Road.
"She was really in desperate need of assistance," Roodman said. "The chicken was making all kinds of noises in the morning and disturbing her animals, and in short just generally being a nuisance."
Roodman "chased after it a little while" before recruiting the woman's husband to help him catch the chicken in a net, he said. A former city police officer who has a small farm has offered to let the chicken stay there until its owners come forward, Roodman added.
If the owner does not come forward in six days, it is up to the department to find a place for the chicken to live or "humanely dispose" of it, according to the Augusta city charter.
The charter also says that owners of animals who get loose are responsible for repaying expenses incurred in recovering the animals.
Since posting a picture of the hen — which he originally thought was a rooster — on the Police Department's Facebook page, Roodman said he has heard from a number of people correcting him about its sex and offering to take the bird for a mix of purposes.
"Hopefully the person missing this fine looking fella woke up in time for work today without their natural alarm clock!" the Police Department wrote in its Facebook post. "After a brief foot chase and resisting capture, Animal Control Officer Roodman took him into custody."
One person responded: "Not ours, but we'd be happy to give her a home if she isn't claimed! By the way, this is a hen. She just might leave you breakfast."
"If no one claims it," wrote another, "I'd be glad to eat it."
Roodman also has heard that now another chicken, this one with brick-red feathers, is causing a similar disturbance on Bond Brook Road. He was heading there Thursday afternoon to search for the second bird.
About Redden Custom Netting
In 1958, John Redden started Redden Net Co. Ltd to supply commercial fishing gear to the fishing communities of the Pacific Northwest. Now, more than fifty years later, we have an in-house net loft staffed by professional, experienced net builders – and our executive team has more than 100 combined years of experience in every facet of industrial netting. So no matter what industry you're in, if you need a net, we can build it.
Over the last fifty years, our technology, applications, and materials have become more complex, but our business philosophy remains simple. Treat employees and customers – right.  We do. And we'll do it for you.
Contact:
Phone: 1.800.667.9455 (Toll Free)
Email: [email protected]
Web: http://redden-net.com