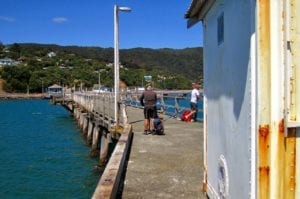 SANTA CRUZ, Calif. —Over the last five years, Cowell Beach in Santa Cruz has earned the unhappy distinction of having California's dirtiest ocean water, but hopefully not for long when they install pigeon netting.
Pigeons roosting under the Santa Cruz Wharf were determined to be a major source of the high bacteria levels.
City crews are taking action this week to keep the fowl from fouling ocean waters.
"What we're doing now is some bird-exclusion work" said Santa Cruz Wharf Supervisor John Bombaci.
Cowell Beach's dirty water confounded the city for years, and the city's Cowell Working Group conducted several studies to find a source causing high bacteria levels that made the area unsafe for swimming.
On Thursday, crews were busy installing stainless steel fencing and pigeon netting underneath the Santa Cruz Wharf. The fencing and pigeon netting extend more than 200 feet, from the beginning of the water, to the end.
"We're using it to barricade out nesting areas for pigeons down in the transition zone, the tidal area on Cowell Beach," Bombaci said.
Cowell Beach's waters exceeded bacteria standards for 200 days in 2015.
"There may be other natural occurring things that we probably won't be able to control, so we're looking at the controllable sources, and this is one of the most obvious," said Scott Collins, assistant to the city manager.
High bacteria levels always spike in the summer.
"The summer is when most people are on the beach. So our goal is to goal is to get all the infrastructural needs met, all the barriers installed, before summer," said Nik Strong-Cvetich, executive director of Save the Waters Coalition.
The cost for fencing underneath the wharf was $50,000.
Ocean water quality will be tested regularly at Cowell Beach to determine if the anti-bird efforts are making a difference.
About Redden Custom Netting
In 1958, John Redden started Redden Net Co. Ltd to supply commercial fishing gear to the fishing communities of the Pacific Northwest. Now, more than fifty years later, we have an in-house net loft staffed by professional, experienced net builders – and our executive team has more than 100 combined years of experience in every facet of industrial netting. So no matter what industry you're in, if you need a net, we can build it.
Over the last fifty years, our technology, applications, and materials have become more complex, but our business philosophy remains simple. Treat employees and customers – right.  We do. And we'll do it for you.
Contact:
Phone: 1.800.667.9455 (Toll Free)
Email: [email protected]
Web: http://redden-net.com