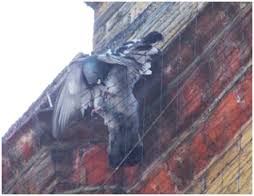 A bird-brained pigeon sparked an elaborate rescue operation after getting stuck in roof netting.
Firefighters and RSPCA inspectors were lifted 120ft into the air in a cherry-picker to help the distressed creature, which got trapped in netting atop a derelict pumping station in Croydon town centre.
The RSPCA was summoned to the pigeon's plight after it became stuck at the top of the grade II-listed tower in Exchange Square.
The height of the building meant firefighters from Croydon fire station needed to bring an aerial platform to lift the inspector to the bird, which has since been released in good health.
Inspector Anthony Pulfer said: "The pigeon was trapped by the wing and leg in netting about 120ft up.
"We asked the fire service to help and they were brilliant. Because of the height they brought an aerial platform to reach the bird and I was lucky enough to go up in it.
"I've never been that high up before, I really did get a bird's eye view of Croydon. I was able to free the pigeon from the netting and bring him back down.
"I checked him over and fortunately he wasn't injured so I released him back into the wild.
"The fire service were absolutely fantastic. We couldn't have rescued this bird without them."
Witness Marta Szydlik, who lives in Waterworks Yard, said: "The pigeon got stuck yesterday but the firefighters came today, they were quite quick at rescuing it.
"Two other pigeons tried to save him but he just got stuck in the net.
"My daughter thought it was great. She is in love with Fireman Sam, so she was at the window all the time enjoying watching them."
About Redden Custom Netting
In 1958, John Redden started Redden Net Co. Ltd to supply commercial fishing gear to the fishing communities of the Pacific Northwest. Now, more than fifty years later, we have an in-house net loft staffed by professional, experienced net builders – and our executive team has more than 100 combined years of experience in every facet of industrial netting. So no matter what industry you're in, if you need a net, we can build it.
Over the last fifty years, our technology, applications, and materials have become more complex, but our business philosophy remains simple. Treat employees and customers – right.  We do. And we'll do it for you.
Contact:
Phone: 1.800.667.9455 (Toll Free)
Email: [email protected]
Web: http://redden-net.com