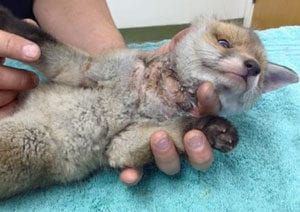 In the week when foxes in Leicester found the net to crown themselves Premier League champions, warnings have been issued to homeowners to ensure Havering's foxes don't score an own goal.
The RSPCA Essex Havering branch, Chippenham Road, Harold Hill, is calling for people to be "extra vigilant" after reports of a number of fox cubs being found tangled in netting in gardens, schools and playing fields.
RSPCA animal collection officer Joe White said: "Where fox cubs are so playful, they are finding netting too interesting to resist and then becoming tangled.
"It doesn't take too long of them thrashing about trying to escape before they become seriously trapped and are then unable to free themselves.
"If they go unnoticed even for a short time, they can really suffer.
"The tight net can cut off the blood supply to their limbs, damage bones where they have tried to frantically escape, or worst of all, they could be strangled to death."
On bank holiday Monday, RSPCA officers were called to a cub caught in football netting in a garden in Bentley Drive, Ilford, and the week before another cub was found tangled up in sports netting at Scott Wilkie Primary School in Canning Town.
Sue Schwar, from the South Essex Wildlife Hospital, has seen an influx of injured and orphaned fox cubs brought into the hospital.
She said: "We currently have 60 fox cubs in our care, which as you can imagine, is keeping us very busy.
"Sadly, many of these have come in after being rescued from netting.
"It's very concerning and we know first-hand that netting can cause devastating and life threatening injuries to all sorts of wildlife, including hedgehogs, deer and even grass snakes caught in pond netting.
"It can so easily be avoided if people are just that extra bit careful when it comes to tidying netting away or picking it up off the ground."
About Redden Custom Netting
In 1958, John Redden started Redden Net Co. Ltd to supply commercial fishing gear to the fishing communities of the Pacific Northwest. Now, more than fifty years later, we have an in-house net loft staffed by professional, experienced net builders – and our executive team has more than 100 combined years of experience in every facet of industrial netting. So no matter what industry you're in, if you need a net, we can build it.
Over the last fifty years, our technology, applications, and materials have become more complex, but our business philosophy remains simple. Treat employees and customers – right.  We do. And we'll do it for you.
Contact:
Phone: 1.800.667.9455 (Toll Free)
Email: [email protected]
Web: http://redden-net.com