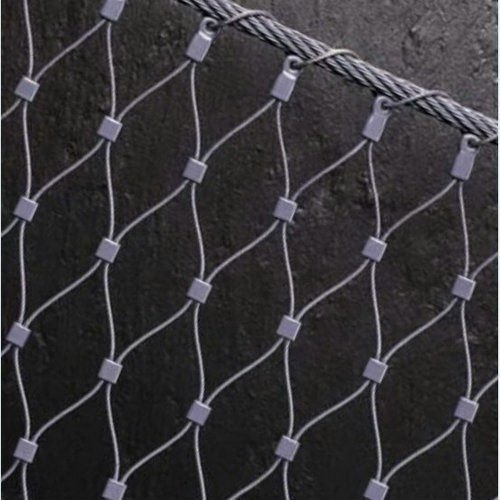 Hebei Metal Mesh Ltd is a specialized manufacturer of stainless steel mesh. They are used for netting the enclosures of zoo animals quite strong and secure.
It is the responsibility of the zoo authority to ensure that the enclosures of every bird and animal is made of superior quality wire stainless steel mesh to prevent the chance of sudden escape. There are many agencies that prepare wire mesh exclusively for making the cages of zoo animals very strong and secure. Hebei Metal Mesh Ltd is one such company which is specialized in making animal enclosures mesh using high quality stainless steel rope. All its products are known for their flexibility, durability, stamina and light weight. Customers can log on to the website of the company to view the entire product lists.
Its stainless steel mesh is free from rust and other contamination and is extensively used in zoo bird netting, aviary, animal enclosure, sports net and so on. These mesh products have been manufactured using hand woven technique and are quality certified. Customers have the chance of getting fifteen percent discount or more once they purchase products via its online store. All the rope mesh products of this firm come with a warranty period of 30 years and are suitable in every type of environment. They also ensure perfect circulation of air without restricting the natural activities of the zoo animals. Using steel rope mesh it is also specialized in making passageway for monkeys for free movement and interaction with the tourists.
The firm has also the required expertise of developing leopard barrier netting to restrict and control the movement of the ferocious creature for ensuring perfect safety of the visitors. It also accepts customized orders from clients in preparing the metallic mesh of their choice and design. Its hand woven steel mesh is ideal for zoo gibbon cage fencing as it is quite easy to install with flexible mesh panels. Apart from that, it does not need any sort of maintenance and can be reused. The company makes steel mesh with the ultimate objective of perfect integration with natural surroundings of the enclosures with no harmful environmental impacts.
The agency meets the strict guidelines when it comes to supplying products to the relevant clients. For additional information, users can contact its customer support staffs who are always prepared to address the enquiries of the clients. Its mesh items are available in various dimensions ranging from 0.7 meters to 1.6 meters and so on. Its wire mesh is suitable to restrict the movement of any type of animals and birds with solid impact resistance mechanism.
About Redden Custom Netting
In 1958, John Redden started Redden Net Co. Ltd to supply commercial fishing gear to the fishing communities of the Pacific Northwest. Now, more than fifty years later, we have an in-house net loft staffed by professional, experienced net builders – and our executive team has more than 100 combined years of experience in every facet of industrial netting. So no matter what industry you're in, if you need a net, we can build it.
Over the last fifty years, our technology, applications, and materials have become more complex, but our business philosophy remains simple. Treat employees and customers – right.  We do. And we'll do it for you.
Contact:
Phone: 1.800.667.9455 (Toll Free)
Email: [email protected]
Web: http://redden-net.com