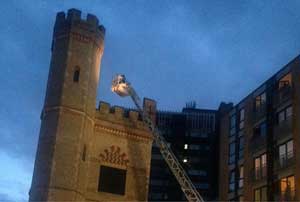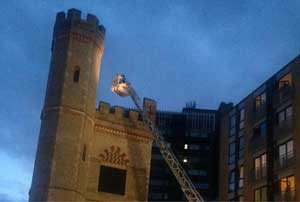 Firefighters and RSPCA workers were called to free pigeons tangled in netting at the top of the pumping station in Exchange Square for a third time this week.
Crews from Croydon station along with an especially high ladder from Clapham freed three birds from the 30 metre tower in two incidents on Monday.
But yesterday afternoon they were called back again to help a fourth bird which had become caught by its neck in netting on the building's turrets.
An RSPCA officer and a firefighter were raised to the top of the building by the 32 metre turntable ladder from Clapham and the pigeon was untangled from the netting.
It was exhausted and had suffered feather damage where it had been attacked by a seagull. An RSPCA spokeswoman said the bird will be released back into the wild once it has recovered.
"We really appreciate the help of the fire service again, without them we would not be able to rescue these birds which would otherwise suffer a slow and painful death," she said.
"We are making enquiries to speak to the owner of the building and in the meantime some of the netting has been removed to try and prevent more birds becoming trapped."
Pumping station owners Guildhouse Rosepride said they were unaware of the pigeons' plight until the Advertiser contacted them yesterday afternoon.
Mark Waterstone, of Rosepride, said any netting on the station was put in place by the building's previous owners, and this is the first time he has known a pigeon to become stuck.
"We are more than happy to engage with whoever needs to be engaged with to resolve whatever needs to be resolved," he said.
About Redden Custom Netting
In 1958, John Redden started Redden Net Co. Ltd to supply commercial fishing gear to the fishing communities of the Pacific Northwest. Now, more than fifty years later, we have an in-house net loft staffed by professional, experienced net builders – and our executive team has more than 100 combined years of experience in every facet of industrial netting. So no matter what industry you're in, if you need a net, we can build it.
Over the last fifty years, our technology, applications, and materials have become more complex, but our business philosophy remains simple. Treat employees and customers – right.  We do. And we'll do it for you.
Contact:
Phone: 1.800.667.9455 (Toll Free)
Email: [email protected]
Web: http://redden-net.com