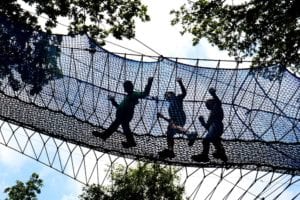 Award-winning Lake District attraction Treetop Nets has announced that it is branching out and work has now commenced to create a brand new high ropes adventure next to Lighwater Valley near Ripon, North Yorkshire. The new site is set to be 50% bigger than their original Lake District attraction and will use enough rope to run the entire length of Hadrian's Wall.
The new Treetop Nets site will venture even higher up into the trees than its original counterpart and will feature an array of brilliant new features including a gigantic aerial ball pool, a tree house and a 50 foot high crows nest alongside the ever popular giant tree trampolines.
The new site will continue to provide everyone aged three and up with an adventurous way to play 'I'm a Celebrity' style high up in the tree canopy. Its walkways, slides and tunnels will all be entirely made from and encased in rope netting, so participants can safely bounce, run, climb and swing at height to their heart's content.
Mike Turner, owner of Treetop Nets said: "We're really excited to be bringing Treetop Nets over to Yorkshire, through the help of Welcome to Yorkshire we've already had lots of interest and some fantastic feedback. It's going to be even bigger and more adventurous than our Windermere site and that's really saying something, but will still keep at its core our family values, so that it remains accessible for everyone over the age of three"
Visiting the site, Sir Gary Verity, Chief Executive of Welcome to Yorkshire said: "I have been very impressed with what I have seen today – Treetop Nets is a really unique visitor attraction and offers something for everyone.
"Once open in May, it will be a fantastic addition to the visitor attraction offer in Yorkshire and I am sure it will attract families from far and wide. I would like to wish Mike and his team the very best of luck for the future."
Launched in June 2014, Treetop Nets has already grown to become a multi-award-winner, including claiming the accolade of 'Best Tourism Experience in England' at the VisitEngland Awards for Excellence 2015.
A UK first, Treetop Nets has welcomed over 60,000 visitors since its launch and is the brainchild of one of the world's best sailors and rope experts, inventor Cedric Chauvaud. Chauvaud came up with the concept after designing a series of rope bridges and nets for researchers in the Amazon rainforest, gaining them safe access to the high canopy, without causing damage. This early concept has now evolved into a unique Treetop Adventure for the whole family.
The new Treetop Nets Yorkshire site is expected to be finished by mid-May in good time to open for the school Half Term holidays.
About Redden Custom Netting
In 1958, John Redden started Redden Net Co. Ltd to supply commercial fishing gear to the fishing communities of the Pacific Northwest. Now, more than fifty years later, we have an in-house net loft staffed by professional, experienced net builders – and our executive team has more than 100 combined years of experience in every facet of industrial netting. So no matter what industry you're in, if you need a net, we can build it.
Over the last fifty years, our technology, applications, and materials have become more complex, but our business philosophy remains simple. Treat employees and customers – right.  We do. And we'll do it for you.
Contact:
Phone: 1.800.667.9455 (Toll Free)
Email: [email protected]
Web: http://redden-net.com