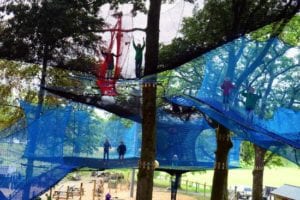 With giant trampolines, walkways, slides and a ball pool, all suspended between trees up to 50ft off the ground, there's no better place to unleash your inner child and burn off some excess energy. The brand new attraction – which is a first for Yorkshire – has just opened its doors and offers visitors the chance to run, bound, tumble and slide on 2,000 square metres of giant trampolines, walkways and slides. If that's not enough, it's also home to the world's longest aerial net walkway, a tree house, and a 50ft high crow's nest – the perfect place to take a breather and admire the scenery. Unlike traditional high ropes courses, visitors are completely surrounded by 3m high walls of netting which means you're always safe and are free to roam wherever you please. Suitable for everyone aged three and above, Treetop Nets is the brainchild of one of the world's best sailors and rope experts, inventor Cedric Chauvaud. Chauvaud came up with the concept after designing a series of rope bridges and nets for researchers in the Amazon rainforest, gaining them safe access to the high canopy, without causing damage. This early concept has now evolved into a unique treetop adventure which has all the makings of a fantastic family day out.
About Redden Custom Netting
In 1958, John Redden started Redden Net Co. Ltd to supply commercial fishing gear to the fishing communities of the Pacific Northwest. Now, more than fifty years later, we have an in-house net loft staffed by professional, experienced net builders – and our executive team has more than 100 combined years of experience in every facet of industrial netting. So no matter what industry you're in, if you need a net, we can build it.
Over the last fifty years, our technology, applications, and materials have become more complex, but our business philosophy remains simple. Treat employees and customers – right.  We do. And we'll do it for you.
Contact:
Phone: 1.800.667.9455 (Toll Free)
Email: [email protected]
Web: http://redden-net.com