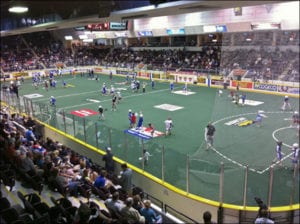 Memorial Centre staff and the Peterborough Century 21 Lakers are investigating potential changes to new netting after receiving complaints from fans.
Lakers chairman Bill Joiner acknowledged the team has received a number of complaints that fans are having difficulty seeing the game through white netting installed prior to the hockey season last fall. The previous netting was black. The new netting was also extended to cover the full length of the seven-foot glass which ends near the faceoff circles.
"We have had a number of complaints," said Lakers chairman Bill Joiner. "With the white lacrosse ball you can't see it because of the white netting.
"I think almost everyone on the board got a complaint."
Joiner said Lakers executive John Grant Sr. brought the concern to PMC operations manager Jason Fisher who said he would investigate the costs of returning to a black mesh.
"We're waiting for a reply before we can really say or do anything," said Joiner. "Then we can make a decision on what we want to do or hope to try to do from there."
In lacrosse, where the ball is shot in a downward motion it's not as common as it is in hockey for the ball to leave the playing area and end up in the stands. The Air Canada Centre, for instance, does not use the netting for lacrosse games. When asked if the netting was even necessary, Joiner said he couldn't speak for the city
"I can assume that an ounce of caution is a pound of care," Joiner said.
Fisher said the netting didn't seem to be an issue in the hockey season when a black puck is used rather than a white ball. He confirmed the Lakers brought their concerns to him.
"What I'm doing this morning is I'm looking for some quotes on black netting," said Fisher, who took over as PMC operations manager in April. "I've spoken with the Lakers lacrosse and they asked if the netting had been changed and I said, yes, it had been changed." Fisher said he'll present the costs to facilities manager Jeremy Giles and decisions will be made at that point. Giles was out of the office on Friday and couldn't be reached for comment.
About Redden Custom Netting
In 1958, John Redden started Redden Net Co. Ltd to supply commercial fishing gear to the fishing communities of the Pacific Northwest. Now, more than fifty years later, we have an in-house net loft staffed by professional, experienced net builders – and our executive team has more than 100 combined years of experience in every facet of industrial netting. So no matter what industry you're in, if you need a net, we can build it.
Over the last fifty years, our technology, applications, and materials have become more complex, but our business philosophy remains simple. Treat employees and customers – right.  We do. And we'll do it for you.
Contact:
Phone: 1.800.667.9455 (Toll Free)
Email: [email protected]
Web: http://redden-net.com