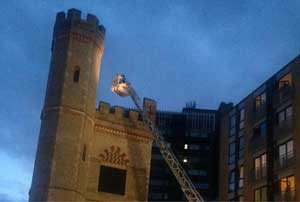 Firefighters and RSPCA workers were called to free pigeons tangled in netting at the top of the pumping station in Exchange Square for a third time this week.
Crews from Croydon station along with an especially high ladder from Clapham freed three birds from the 30 metre tower in two incidents on Monday.
But yesterday afternoon they were called back again to help a fourth bird which had become caught by its neck in netting on the building's turrets.